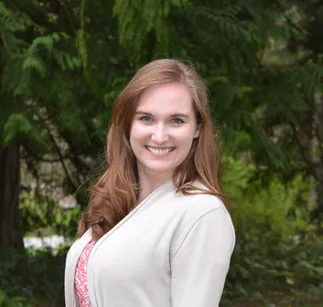 Madeleine Cushman (she/her) is a Washington State Licensed Mental Health Counselor. She earned a Bachelor of Arts in Psychology from Willamette University in Salem, OR and graduated from Boston College with a Master of Arts in Mental Health Counseling in Boston, MA in 2015. She has worked as a crisis call center clinician in Denver and a child and family therapist in both community mental health and private practice settings here in Washington. She is also a certified Child Mental Health Specialist (CMHS) and Disability Mental Health Specialist (DMHS) in the state of Washington. She is currently in process pursuing her Infant Mental Health Endorsement through the Washington Association for Infant Mental Health and her Perinatal Mental Health Certificate through Postpartum Support International. She is an active member in both organizations. She primarily works with pregnant persons, new parents and caregivers, young children (5 and under) and their families, as well as specializing in working with children with developmental and intellectual disabilities. LGBTQ+ parents and children with their families are welcome.
You may be wondering what Perinatal and Infant Mental Health are. Infant Mental Health is the focus on a child's emotional and social development from pregnancy through 5 years old and the relationship with caregivers. Perinatal Mental Health is a birthing person's mental health from pre-pregnancy through the first year post birth. Madeleine uses tools from various treatment methods to help during these time periods depending on your needs. She has extra training in Cognitive-Behavioral Therapy (CBT) through Harborview Center for Sexual Assault and Traumatic Stress, Dialectical-Behavioral Therapy (DBT), play therapies and others. Madeleine has a strong focus on constantly striving to learn and pursue a deeper understanding of the work, especially pregnancy, postpartum, and new parenthood. She is always looking for new trainings to be a better therapist for you and your family.
Madeleine works with you to figure out what you want and need out of therapy – coming up with goals and choosing how you want to work toward those goals. However, her primary method is establishing a strong therapeutic relationship and creating a safe space for you, children and families to build on strengths, gain new tools and skills, and address concerns.
It is also important to Madeleine to engage as much of the family unit as possible. It is not always immediate, and sometimes working individually would be the best choice. However, Madeleine encourages parents to bring in infants for their own new parenthood experience, or Madeleine requires parental engagement if focusing on the child's wellbeing.

Madeleine strongly believes in the power of relationships. Building a therapeutic relationship is often the greatest predictor of success. If you find that Madeleine is not the right fit for you, she will happily refer you to another provider in order for the best chance at feeling better. Your and your family's healing is the goal. However, Madeleine encourages open communication about the therapy process, because it is always possible to shift how you and Madeleine are approaching your goals - or to adjust your goals.